Violent incidents at GP surgeries have doubled in less than five years, according to figures from police forces across the UK.
An investigation by the British Medical Journal found the number of assaults at surgeries and health centres resulting in injury had almost doubled too.
Police forces recorded 1,068 violent incidents between 2021 and 2022, up from 586 between 2017 and 2018.
The chairman of the Royal College of GPs called the findings "unacceptable".
Professor Martin Marshall told the BBC: "The findings from this investigation need to be taken seriously.
"It's entirely unacceptable for anyone working in general practice to be at the receiving end of abuse of any kind when they are just doing their best to deliver vital care and services to patients, but the increase in reports of physical violence is particularly distressing."
Prof Marshall said the abuse would have "a significant impact on the mental health, wellbeing and morale of individual doctors and practice staff".
'We face constant demeaning comments'
Dr Adam Janjua, who has worked as a GP in Fleetwood near Blackpool for 13 years, told the BBC he'd been shoved in the chest and a patient had threatened to stab him.
Intimidation and social media abuse were commonplace and "staff constantly faced demeaning comments from angry patients", he said.
Dr Janjua said the situation was "unprecedented" and GPs had been wrongly portrayed by the government as unwilling to see patients face-to-face during the pandemic.
"Political meddling needs to stop," he said.
"We make for good villains when the NHS is down on its knees."
But he said there was a conversation to be had about what the NHS can realistically deliver with fewer GPs, fewer staff and more pressures.
"When something is free, people take it for granted," Dr Janjua said.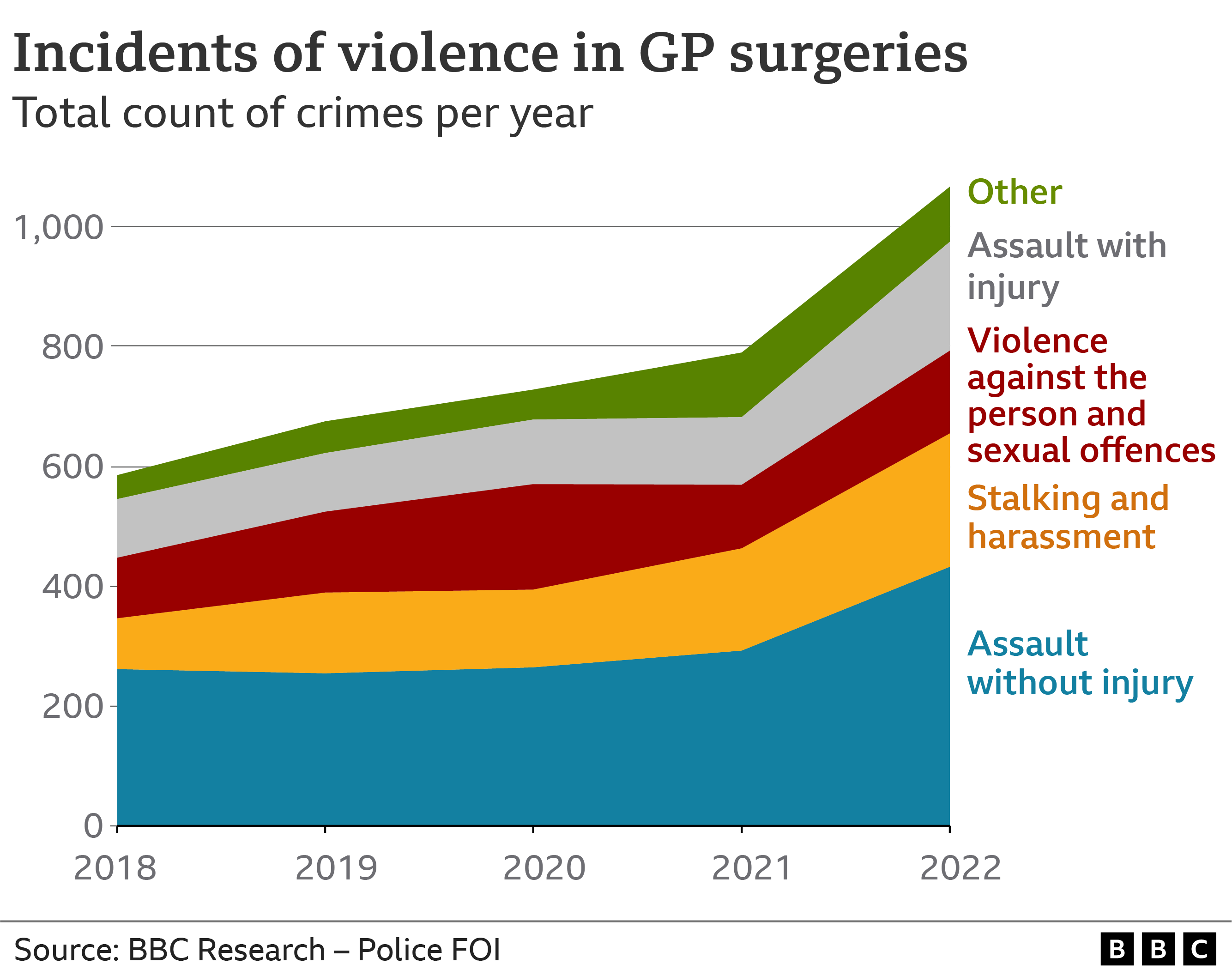 There are concerns that more GPs may leave the profession because of harassment and threats of violence faced at work.
The pandemic has been cited as a cause for the increase in violence, as services came under more pressure.
Some patients also believed services had closed altogether, leading to added frustration.
The BMJ was able to obtain complete and comparable data from 32 police forces across the UK, the BBC's health editor Hugh Pym reports.
Around 70% of the UK's police forces had responded to Freedom of Information requests on recorded crimes at GP sites over the last five years, the BMJ said.
The figures showed a near doubling of incidents of violence over that time to more than 1,000 in the last year – and up over 200 on the previous year .
It revealed there were 182 assaults resulting in injury in the last year – almost double the 98 recorded in 2017-18.
There was also a large increase in malicious communications including letters and emails.
Recorded incidents of stalking and harassment at surgeries and health centres also tripled in the same period, from 85 in 2017 to 223 in the last year.
The UK annual conference of local medical committees recently proposed that surgeries should be given more power to remove abusive patients immediately and strike them off their register.
Dr Richard Van Mellaerts, who sits on the British Medical Association's GP committee, said the BMJ figures matched the experience of doctors he's spoken to, including those in his own clinic in Kingston upon Thames in Surrey.
'No excuse' for violence
He said: "I regularly hear abuse directed at reception staff in my practice. We've had to call the police several times over the last year.
"I know GPs who have been attacked, their reception area has been damaged, and their consultation room has been wrecked.
"It is absolutely appalling. Any single instance of abuse or violence or harassment towards any GP or practice staff or any NHS staff is one too many, and it should never be tolerated."
Dr Van Mellaerts said there could be several reasons for the increase in violence, including patient frustration at remote or telephone appointments instead of in-person visits.
He also pointed out that "fewer GPs are doing more and more", meaning it was difficult for people to access the help they needed.
But he said that should not "excuse any kind of violence".
Uncategorised